November 23, 2014

WELCOME!
WE'RE GLAD YOU'RE HERE

We are a group of believers who simply try to follow the Bible as a guide for all we do. Everything done in our worship service is something for which we have a Bible basis. You are welcome to participate as much or as little as you wish. We will sing hymns together and we will observe the Lord's Supper or Communion together. We will also have an opportunity to give to the work of God in this area. This collection is for the members here, and if you are visiting you should not feel and pressure to give. Our lesson time will be divided into two groups. The young children will go to our classroom area in the basement where they will be taught the Bible at a level they can understand. The adults will stay in the auditorium for a lesson at an adult level. We do try to serve the community, and if you have some needs that we can help you with, mention it to one of the members. Thank you for worshipping with us.
NO CLASS NOVEMBER 26: Because so many people are going to be out of town for Thanksgiving, we will NOT have our normal Wednesday night class this week.
CHRISTMAS FLOAT — SAVE DECEMBER 5 when we will have a Christmas float in the city holiday parade. We need everyone there for this event, so please mark it on your calendar. All you need to do is sit on a hay bale on a wagon, smile, wave, wish people in Dowagiac a Merry Christmas and a Happy New Year and join all of us in singing "Jingle Bells" and a few Christmas carols — sheet music provided.
WINTER COAT PROJECT COMING UP: Every year we buy a large number of winter coats wholesale and give them to children in the area who do not have a warm winter coat. We need other people involved in this project besides Bill and Patty Gibson. We can get the coats from several different sources, so contact Bill or Patty and volunteer to get the coats and help distribute them. The church pays for the coats, we just need workers to get them and distribute them.
TODAY'S LESSON
John Clayton
INTRODUCTION
A. A visit to Yosemite Valley and Glacier Point
1. Can see the Point from the valley floor
2. Can go straight up the face
3. Cannot always see the top no matter how you go
4. Switchbacks lead to switchbacks
B. Life is like that.
C. The history of Israel is like that.
I. ISRAEL, LIKE US, IS PROMISED SOMETHING THEY CANT SEE.
A. Exodus 6:6 – 8
1. This generation knew nothing but slavery.
2. Could not visualize "land of milk and honey."
B. We are promised something we cannot see.
1. An existence we have never known — like Israel
2. 1 Corinthians 15:5
II. ISRAEL HAD A DESERT TO GO THROUGH — Exodus 16:1 – 3.
A. 45 days since they left Egypt — they have forgotten.
B. Have you forgotten the past — what's your desert?
III. GOD HOVERS IN ANSWERING NEEDS — Genesis 1:2.
A. Deuteronomy 32:10 – 11 — God does not force solutions.
IV. DELIVERANCE REQUIRES EXTENDING.
A. Exodus 14:15 – 16 — God does new things in our lives.
B. Deuteronomy 30:9 – 16 — verse 11 especially
1. We CAN do what God commands.
V. DELIVERANCE MAY CHALLENGE OUR EXPECTATIONS.
A. Exodus 15:17 and Exodus 3:8 — 40 years takes time.
B. Moses never set foot in the promised land.
1. You may not live long enough to see.
C. Hebrews 11:13
V. WHAT DESERT ARE YOU IN — ARE YOU SEEKING THE TOP?
THE BACK PAGE
GOD WON'T ASK
God won't ask what kind of car you drove, but He'll ask how many people you helped get where they needed to go.


God won't ask the square footage of your house, but He'll ask how many people you welcomed into your home.


God won't ask about the clothes you had in your closet, but He'll ask how many you helped to clothe.


God won't ask how many friends you had, but He'll ask how many people to whom you were a friend.


God won't ask in what neighborhood you lived, but He'll ask how you treated your neighbors.


God won't ask about the color of your skin, but He'll ask about the content of your character.


God won't ask why it took you so long to seek salvation, but if you have done that, He'll lovingly take you to be with Him in heaven and not to the gates of hell.




Author unknown (in some places attributed to Lil Phoenix)
Take some time this week to give thanks to God for all the things listed above — that you have a car, that you have a house, that you have clothes, that you have friends and, above all, that you have salvation in Christ. First Thessalonians 5:16 – 18 instructs us to "Be joyful always; pray continually, give thanks in all circumstances, for this is God's will for you in Christ Jesus." For Christians, thanksgiving is a daily celebration and we all have much to be thankful for. Sharing our blessings is what sets us apart from those who do not know the Lord or his way of life.
Participating in a national holiday that celebrates all God has done for us as individuals and as a country is a good thing, but let us make Thanksgiving a daily experience.
— John Clayton
Our sign by the street!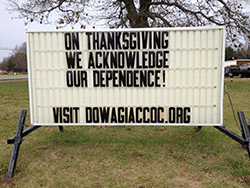 Sign saying from www.sayingsforchurchsigns.com