December 21, 2014

WELCOME!
WE'RE GLAD YOU'RE HERE

We are a group of believers who simply try to follow the Bible as a guide for all we do. Everything done in our worship service is something for which we have a Bible basis. You are welcome to participate as much or as little as you wish. We will sing hymns together and we will observe the Lord's Supper or Communion together. We will also have an opportunity to give to the work of God in this area. This collection is for the members here, and if you are visiting you should not feel and pressure to give. Our lesson time will be divided into two groups. The young children will go to our classroom area in the basement where they will be taught the Bible at a level they can understand. The adults will stay in the auditorium for a lesson at an adult level. We do try to serve the community, and if you have some needs that we can help you with, mention it to one of the members. Thank you for worshipping with us.
COAT GIVE-AWAY A HUGE SUCCESS: Our hats are off to everyone who worked on the winter coats for kids give away. Bill and Patty and Rose and Howard went to the wholesale outlet with specific coat sizes and needs and brought back a large number of bags of coats, gloves, and hats. They have been distributed to the children that many of you had put us in contact with throughout the area in the name of the church. In past years we gave them to schools and let them distribute them. This was a vastly superior method, and again, thanks to everyone who had a part in it.
CANCELLATION: If bad weather makes it dangerous to hold classes or services we will cancel them. Call Bill Gibson at 782-4564 if you have doubts. Remember that we have people coming from great distances, so where you are may affect this. Christmas Eve is Wednesday, December 24 and New Year's Eve is Wednesday, December 31. We will not have class on those two nights.
TODAY'S LESSON
| | |
| --- | --- |
| | |
INTRODUCTION
We sing Christmas songs, usually concentrating on the first verse alone, and miss the deeper spiritual meaning the author of the song had in mind, and the scripture that speaks to that meaning. This morning we will focus on that message and meaning.
I. "Come all Ye Faithful"
Luke 2:10 — God's favor rests upon us — this is a happy morning.
II. "Hark the Herald Angels Sing"
A. Herald = News giver
B. 2 Corinthians 5:17 – 19 — Reconciliation
C. John 3:3 — "Man no more may die."
D. 1 Corinthians 11:25 — The New Covenant nourished in worship and communion
III. "Joy to the World"
A. Genesis 3:17 – 19 — The curse came through sin.
B. Revelation 21:3 — Jesus came to remove the curse.
C. Revelation 22:3,7 — No longer any curse
IV. "It Came Upon a Midnight Clear" and "Silent Night"
A. Jesus brings an end to all sin brings.
B. War and strife replaced with love and peace
C. Jesus had a special love for the common man.
V. Read the song "Mary Did You Know" on THE BACK PAGE below — Matthew 19:24.
VI. "O Little Town of Bethlehem" —  Message of meekness
VII. "To Us a Child of Hope Is Born" — What is your hope?
VIII. "Be with me Lord"
THE BACK PAGE
"MARY DID YOU KNOW" LYRICS
Mary did you know that your baby boy will some day walk on water?
Mary did you know that your baby boy will save our sons and daughters?
Did you know that your baby boy has come to make you new?
This child that you've delivered, will soon deliver you.
[Verse 2]
Mary did you know that your baby boy will give sight to a blind man?
Mary did you know that your baby boy will calm a storm with his hand?
Did you know that your baby boy has walked where angels trod?
And when your kiss your little baby, you have kissed the face of God.
Oh Mary did you know
The blind will see, the deaf will hear, the dead will live again.
The lame will leap, the dumb will speak, the praises of the lamb.
[Verse 3]
Mary did you know that your baby boy is Lord of all creation?
Mary did you know that your baby boy would one day rule the nations?
Did you know that your baby boy is heaven's perfect Lamb?
This sleeping child you're holding is the great I am.
Lyrics and music written by Mark Lowry and Buddy Greene.
Lyrics from: http://www.lyricsmode.com/lyrics/m/mark_lowry/mary_did_you_know.html
— John Clayton
Our sign by the street!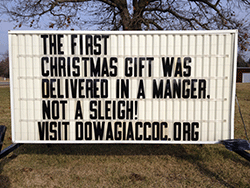 Sign saying from www.sayingsforchurchsigns.com