January 11, 2015

WELCOME!
WE'RE GLAD YOU'RE HERE

We are a group of believers who simply try to follow the Bible as a guide for all we do. Everything done in our worship service is something for which we have a Bible basis. You are welcome to participate as much or as little as you wish. We will sing hymns together and we will observe the Lord's Supper or Communion together. We will also have an opportunity to give to the work of God in this area. This collection is for the members here, and if you are visiting you should not feel and pressure to give. Our lesson time will be divided into two groups. The young children will go to our classroom area in the basement where they will be taught the Bible at a level they can understand. The adults will stay in the auditorium for a lesson at an adult level. We do try to serve the community, and if you have some needs that we can help you with, mention it to one of the members. Thank you for worshipping with us.
CONGREGATIONAL MEETING: Last Sunday we had a congregational meeting. A report on that meeting is on THE BACK PAGE below.
REMEMBER OUR CLASSES: We are continuing to have our discussion class which is centered on the book of Acts in the fellowship area on Sunday mornings at 10:00. This has been a great sharing time, and we have had discussions of a wide range of subjects as well as an in depth look at Acts. Our Wednesday night class on Hebrews is continuing. Sunday nights we are studying the book of Ruth in the Old Testament, and will probably finish that book this month. If you have some suggestions on what you would like to study, see Richard Hoyt or John Clayton, or put a written suggestion into the "Question Box" in the lobby.
TRANSPORTATION: If you need a ride to any service of the congregation, just let us know. We have a number of people coming from every direction who have room to pick up riders. You need to be in Bible study, so do not let transportation issues stop you.
NO RECORED SERMON FOR TODAY: Do to a glitch in the operator's mind, there was no SD chip to record this morning's sermon.
TODAY'S LESSON
WHEN NOTHING ELSE MAKES SENSE
John Clayton
INTRODUCTION
A. Lots of challenges face us.
1. Deaths of loved ones, family and friends
2. Chronic illnesses among us
3. Hardship created by non-christians and their sin
B. The Bible is full of similar struggles.
1. Job 3:1 – 11
2. Habakkuk 1:2 – 4 and 13
3. David — Psalm 6:1-7
4. Jesus Christ — Luke 22:42 – 44
C. Five suggestions from God's Word.
I. SUGGESTION 1 — DO NOT DEMAND TO UNDERSTAND.
A. Isaiah 55:8 – 11
B. Proverbs 3:5 – 8
C. Job 42:1 – 6
II. SUGGESTION 2 — DO NOT BE A FAIR WEATHER CHRISTIAN.
A. Revelation 2:10 — We will be tested.
B. Hebrews 3:12 – 13 — Do not allow an unbelieving heart.
C. Acts 20:29
III. SUGGESTION 3 — DO NOT BOW TO BITTERNESS
A. Isaiah 50:10-11
B. 1 John 1:5 – 7 — Darkness is "skotia" — ignorance produced hopelessness. Not "zophos" which is blackness.
IV. SUGGESTION 4 — DO NOT BE UNWILLING TO WAIT.
A. Genesis 39 – 40 — How long did Joseph wait?
1. Genesis 45:4 – 8
V. SUGGESTION 5 — DO NOT LET YOUR DREAMS DISSOLVE
A. Genesis 37 and 41 — Dreams were a part of his life
B. Do you have dreams? —  Matthew 7:7 – 8 and James 4:2 – 3
VI. WHAT DOES MAKE SENSE?
THE BACK PAGE
CONGREGATIONAL MEETING
Last Sunday after our potluck we had a congregational meeting to talk about the work for 2015 and beyond. Our thanks to everyone who stayed and participated in what I think was a very good meeting. Here is a brief summary of what was decided and discussed:
We will have our booth at the Cass County Fair again this summer and the theme will remain the same, but the boards will be changed. We have had good reports and several visitors because of the exhibit, and everyone felt it is worth continuing.
Samantha will have another youth day this year, connected to some of the needs of the county. Our building will be used for this effort.
We will do highway cleanups again this year, the first one being in April.
Our financial support of mission work will continue. We are contributing $100/ month to each of the following:

Glynn Langston's blind ministry named Insight International.
Shults-Lewis Children's Home in Valparaiso, Ind.
The H.O.P.E. prison pinistry.

Our finances are solid, and w e are on our way to saving up enough money to have a full time man here to work with us. If you didn't get a financial report and would like one, see Bill G.
It has been suggested that we make a special neighborhood outreach to the folks living near us. The plan is to give each family a potted plant this spring probably during our road clean up, with a letter being sent ahead telling them when we are coming. A personal visit and a message will be included as the gift is given, and an invitation to some kind of a summer event will be used as a follow-up. An ice cream social and/or a sing along have been suggested.
— John Clayton
Our sign by the street!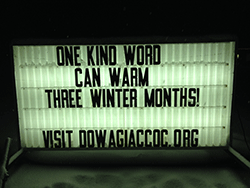 Sign saying from www.sayingsforchurchsigns.com