October 6, 2019

WELCOME!
WE'RE GLAD YOU'RE HERE

We are a group of believers who simply try to follow the Bible as a guide for all we do. Everything done in our worship service is something for which we have a Bible basis. You are welcome to participate as much or as little as you wish. We will sing hymns together and we will observe the Lord's Supper or Communion together. We will also have an opportunity to give to the work of God in this area. This collection is for the members here, and if you are visiting you should not feel any pressure to give. Our lesson time will be divided into two groups. The young children will go to our classroom area in the basement where they will be taught the Bible at a level they can understand. While the adults will stay in the auditorium for a lesson at their level. We do try to serve the community, and if you have some needs that we can provide, mention it to one of the members. Thank you for worshipping with us.
FAMILY NEWS
POTLUCK TODAY with an Italian theme. Stay for pasta, fruit salad, and a host of other good things to eat, but especially to have some quality time with your brothers and sisters in Christ. If you did not bring something, that is fine. We bring extra food and there is always some left over.
PLEASE BE at Timbers Nursing Home by 2:30 P.M. today (earlier if possible) for a worship service with the residents and staff. We need people to sing, visit with residents, and help them to and from the meeting place. The service is only 30 minutes and you will be welcomed by everyone there. Let someone know if you need directions.
Our youth rally with Willie Franklin is canceled due to brother Franklin having schedule conflicts.
HELP is needed for Samantha Wheeler to go to the Dominican Republic as a mission outreach to assist in eye surgeries by the doctors in the office where she works. To donate, give a check written to the Dowagiac Church of Christ to John Clayton or Bill Gibson, write on it "Dominican Republic," then you will have tax credit and the money will go to Sam's expense fund.
TODAY'S LESSON
John Clayton
INTRODUCTION (More Scripture references are on this sheet:
Exorcism Lesson
.)
A. Modern involvement started in 1973 Blatty's novel — the movie — the stage play.
B. Endorsed by some Catholic leaders and materials.
I. SATAN IS REAL, NOT JUST A SYMBOL.
A. God is supreme — Psalm 90:2; 1 Timothy 1:17
B. God has created everything, physical & spiritual.
1. 1 Timothy 3:6; 2 Peter 2:4; Jude 1:6; Revelation 12:7-9; lsaiah 14
2. Freedom of choice has produced a spiritual war.
3. Ephesians 6:12, 3:10; Job 1 and 2
II. WHEN GOD BECAME FLESH, FREEDOM OF CHOICE HAD TO CONTINUE — John 1:14.
A. God has never forced man to conform.
B. This makes demon possession a N.T. issue.
Unknown in O.T. (see Deuteronomy 32:17; Psalm 106:37).
III. DEMONS — MANY FORMS; INVADED INNOCENTS
A. Matthew 17:18 — "Paius" means small child.
B. Mark 9:24 — "Paidion" means small child.
C. Mark 7:25 — "Thugatrion" means little daughter
D. Matthew 12:22, Mark 1:23-26, Matthew 17:14-18; Matthew 8:28-32; Mark 5; Acts 16:16; Luke 8:26-33
IV. EXORCISM IN THE EARLY CHURCH
A. Luke 9:1 and Mark 16:17 — The purpose
B. Acts 16:18 — No ritual involved.
C. Acts 19:13-16 — Only authorized people could do it.
V. DEMONS DO NOT POSSESS PEOPLE TODAY (John 1:14)
A. Prophecy — Zechariah 13:1-14; Colossians 2:15; 1 John 3:8.
B. Jesus was not possessed — Hebrews 4:15; 1 Corinthians 10:13.
C. Cures for Satan do not include exorcism — James 4:7.
D. Warnings to church — see
THE BACK PAGE
below
E. Trusting God — Romans 8:28; 2 Corinthians 12:7-12; Job 1 & 2.
F. Demonology violates man's free moral choice.
G. Judgment pictures — Matthew 25:31-46
VI. WHERE YOU SPEND ETERNITY IS YOUR CHOICE.
A. Matthew 10:28; Philippians 2:12
B. Choose Jesus and not Satan.
C. Our invitation song is SONG: "
All to Jeses I Surrender
."
THE BACK PAGE
MORE ON EXORCISMS
Several things have precipitated the subject matter of our lesson this morning. Perhaps the most pressing of all was a phone call from a woman who wanted the "Pastor of the M 51 Church of Christ to perform an exorcism on an associate" who said she was sure was demon possessed. When I tried to convince her that the person was not demon possessed and that what she was requesting was not biblical she became very angry and demanded that I put her in contact with someone who would perform an exorcism. Add to that the fact that the Archdiocese of the Catholic church in Indianapolis reported over 1,700 requests for exorcisms in 2018 and that the Vatican has opened its course on exorcism to protestant denominations, then you have some idea of the extent of the problem in today's world.
The Apostle Paul warned us this was coming. In Acts 20:28-31 Paul tells the leadership of the church that "grievous wolves" would enter the church "speaking perverse things to draw away disciples after them." Peter warned of the same thing in 2 Peter 2:1-2. Other warnings to the church are given in 1 Corinthians 4 and Colossians 1-2, but nowhere is there a warning about demon possession or a command to perform exorcisms.
Would you not think that if it were possible for demons to take over a person against their will and cause them to lose their soul eternally that there would be some kind of warning about it in the Bible? Instead we are told to "Put on the whole armor of God" (Ephesians 6:13-17) and to rely on the "sword of the Spirit, which is the Word of God."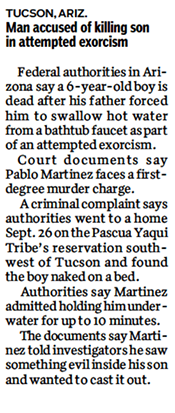 As people desperately look for some answer to their spiritual needs without having to obey God or live in the way God calls them to live, they turn to desperate measures. The article in the South Bend Tribune (10/2/19, page A5, see article at right) telling of the father in Arizona who "saw something evil inside his son and wanted to cast it out" shows us how desperate people are, and trying to perform an exorcism himself as this father did, just results in death as was the case in the father's attempt at an exorcism.
— John Clayton
Our sign by the street!
Sign saying from a street sign at a church on US 20 east of LaGrange, Indiana.
Scripture links/references are from BibleGateway.com. Unhighlighted scriptures can be looked up at their website.
www.dowagiaccoc.org
10/09/2019