January 5, 2020

WELCOME!
WE'RE GLAD YOU'RE HERE

We are a group of believers who simply try to follow the Bible as a guide for all we do. Everything done in our worship service is something for which we have a Bible basis. You are welcome to participate as much or as little as you wish. We will sing hymns together and we will observe the Lord's Supper or Communion together. We will also have an opportunity to give to the work of God in this area. This collection is for the members here, and if you are visiting you should not feel any pressure to give. Our lesson time will be divided into two groups. The young children can go to our classroom area in the basement where they will be taught the Bible at a level they can understand, while the adults stay in the auditorium for a lesson at their level. We do try to serve the community, and if you have some needs that we can provide, mention it to one of the members. Thank you for worshipping with us.
FAMILY NEWS
POTLUCK TODAY. This is the first Sunday of the month and the first Sunday of the New Year. We really want to urge everyone to stay today for several reasons. Not only is it a time of good eating and good fellowship, but today immediately after we eat we are going to have a congregational meeting. This is important not only because the financial situation of the congregation is going to be reported on, but also because we are going to decide what we plan to do in the coming year as a congregation. On page 3 of this bulletin we have a program so you know what the agenda is. Please stay. The program will be over by 2:00 P.M because we have a devotional today at 2:30 P.M at Timbers.
TIMBERS NURSING HOME TODAY AT 2:30 P.M. Bring your voice and some enthusiasm and let us enjoy another half hour with our friends at Timbers.
NO DEVO THIS MONTH. Our usual third Tuesday Devo at the Clayton's will not be held this month. Between darkness and weather we feel it is better not to try to have the night sessions.
SENIORS BRUNCH. Our monthly senior brunch at Golden Corral on Main Street in Mishawka will be held this Tuesday at 11:00 A.M. This is a time of fellowship and good food spent with members of other congregations in the area. There is no program and you can leave whenever you want to.
WEATHER PROCEDURE. We are in that time of year when the weather can cause us to need to cancel a class or a worship service out of concern for the safety of all of those who would attend. Some of us drive over 35 miles one way to get to services, and our location and lake effect conditions can make the conditions at the church building different than what is going on in South Bend. For that reason we are asking Bill and Patty Gibson to make the call as to whether to cancel services or not. If conditions in Dowagiac make it unwise to have people traveling, or if the parking lot is not cleared the Gibsons will call Tracey Brewer, the Hoyts and the Claytons who will in turn call others. If you have doubts call Bill and Patty Gibson or John and Cindy Clayton. The bottom line is that if you have doubts about whether you can make the trip safely or not, stay home. We do not want anyone getting hurt.

TODAY'S LESSON
John Clayton
FIRST QUESTION: WHY DOES GOD WANT WORSHIP ANYWAY?
A. God does not need worship! It is not for his benefit.
B. Man is created in God's image. Worship maintains our soul, our spirit.
1. All humans find a way to satisfy our spiritual needs.
2. The list of things humans do to do this is huge — animal worship, nature worship, drugs, casino activity, etc.
C. Support groups use this - AA, manic depression groups, 12-step programs.
D. God calls us to avoid the negatives and do things that help — "You are the ones who justify yourselves in the eyes of others, but God knows your hearts. What people value highly is detestable in God's sight" (Luke 16:15).
E. Focusing on self is destructive. Look what God says about worship.
I. HUMAN RULES MAKE WORSHIP WORTHLESS.
A. Mark 7:1-8 — Jews had instituted laws "holding the tradition of the elders."
B. Colossians 2:8 — "Beware lest any man spoil you through philosophy and vain deceit after the traditions of men, after the rudiments of this world and not after Christ." Read verses 16-23.
C. Romans 1:25 warns us not to worship the creation instead of the Creator.
1. The creation is to be cared for, but not worshipped.
2. Environmentalism is important, but it is not a god.
II. WORSHIP INVOLVES READING, LEARNING, ENCOURAGING.
A. 1 Timothy 4:13
B. Hebrews 10:24-25 — What is the public speaker's/teacher's job?
C. How should you leave the building?
D. James 1:27 — Worship extends beyond 10:00 on Sunday.
E. Revelation 1:3
III. WORSHIP INVOLVES ALL OF OUR SENSES AND ACTIVITIES.
A. Hebrews 13:15-16 — Lips and voices, not just in corporate worship.
B. James 5:13 — Prayer. Matthew 6 — The closet, personal.
C. Hebrews 13:16; 2 Corinthians 9:7; Acts 20:35 — Is giving a worship you are good at?
The sea of Galilee verses the Dead Sea.
IV. SPECIAL CORPORATE WORSHIP INVOLVES OUR SENSES TOO.
A. Acts 20:7 — What was the primary purpose of coming to worship?
B. 1 Corinthians 10:16-17. In 1 Corinthians 11:17-23 Paul says worship can be for the worst.
C. Jesus makes worship work for us — John 4:23-24 and Matthew 28:18; Ephesians 2:18.
V. LET 2020 BE A TIME OF SPIRITUAL RENEWAL FOR YOU.
A. Meaningful, beneficial worship is something you have control over.
B. Make it a part of your daily plan, not just your Sunday plan.
THE BACK PAGE
DOWAGIAC CHURCH OF CHRIST BUSINESS MEETING
January 5, 2020
FINANCIAL REPORT by Bill Gibson, congregational treasurer.
Where did we spend our money in 2019?
What is our balance?
What expenses do we have coming up for the physical facility?
Work needed in play area.
Issues: We need a mower to maintain our property.
1. Do we pay a lawn care service?
2. Do we mow part and pay for part to be mowed?
3. Do we buy a mower capable of doing the whole property?
Do we continue to feed a fund to hire a full time worker?
FAMILY FUN FAIR by Mandy Wallace.
Success of last summer's program. Record attendance.
Issues: Do we do the Fun Fair again next summer? If so, what date?
COAT GIVEAWAY by Tracey Brewer and Lana Fox.
Several families served.
Issues: The change in the landscape of the coat give away.
Other churches and local organizations doing it.
Sources of coats reduced. Expense report.
FOOD BANK by Richard Hoyt.
Continues to grow — close to 100 people are being served every month.
A few "users." Great PR with community.
Issues: Expense — do we cut anyone off? Any limit?
ENCOURAGEMENT MINISTRY by Julie Marcussen.
Volume continues to grow. People are responding.
Cost factors — now and in future.
AREA WIDE YOUTH RALLY by Samantha Wheeler.
In 2019 it was cancelled. Do we do it in 2020?
AREA WIDE SINGING.
Do we do a singing this year?
OTHER MINISTRIES — Do we continue or not?
Glynn Langston — $100.00/month
Shults Lewis — $100.00/month.
H.O.P.E. — $100.00/month.
Christmas float — Do we do it again or not?
Camp Indogan — Do we continue to send kids to Indogan? Expense?
Does God Exist?
Does the church continue to sponsor this ministry?
No finances are involved in our support of this ministry.
— John Clayton
Our sign by the street!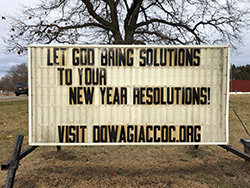 Sign saying from www.sayingsforchurchsigns.com
Scripture links/references are from BibleGateway.com. Unhighlighted scriptures can be looked up at their website.
www.dowagiaccoc.org
01/14/2020