February 9, 2020

WELCOME!
WE'RE GLAD YOU'RE HERE

We are a group of believers who simply try to follow the Bible as a guide for all we do. Everything done in our worship service is something for which we have a Bible basis. You are welcome to participate as much or as little as you wish. We will sing hymns together and we will observe the Lord's Supper or Communion together. We will also have an opportunity to give to the work of God in this area. This collection is for the members here, and if you are visiting you should not feel any pressure to give. Our lesson time will be divided into two groups. The young children can go to our classroom area in the basement where they will be taught the Bible at a level they can understand, while the adults stay in the auditorium for a lesson at their level. We do try to serve the community, and if you have some needs that we can provide, mention it to one of the members. Thank you for worshipping with us.
FAMILY NEWS
GLYNN AND ANN LANGSTON will be here tonight for our evening service. See THE BACK PAGE below.
LADIES' GET-TOGETHER at SAINT JOSEPH on FEBRUARY 13. A social meal with the Saint Joseph sisters is planned for the February 13 at 6:30 P.M. at Chili's, 1275 Hilltop Rd., in Saint Joseph. Please see Tracey if you can go. They need a count.
SPECIAL DAY on MAY 26. We need 20 workers to be here on the May 26 for a community food give away. Save the date. We need you.
JULY 11 & 18 — FAMILY FUN FAIR and AREA SINGING HERE. Mark these dates on your calendar. We need 100% participation in these two programs. The idea is we will set up the tents and facilities for Fun Fair and then leave them up and use them again for the singing.
CPR CLASS: We have an opportunity to offer a CPR class here at the building. We need a few more people to sign up for it. If the $40 cost is a factor talk to one of the men and we will see about giving scholarships for this. Being able to save a life by knowing how to do this life saving procedure is a skill we need to develop. See Tracey Brewer if you are interested.
TODAY'S LESSON
John 14:14-18

John Clayton
INTRODUCTION — The song before our lesson:
O Think of the Home Over There
)
A. Is the Holy Spirit to you mystical, unknowable?
B. How does the Spirit dwell in us — similar to a reserve gas tank?
C. Do we feel the nudge, but resist the Spirit?
1. Acts 7:48-51 — Is God active? Involved?
2. 1 Thessalonians 5:16 — Do we put out the "Spirit's fire"?
3. Romans 7:24-25; 8:1-6
D. We need to be Spirit filled, not spiritless.
I. THE HOLY SPIRIT IN THE BIBLE.
A. Hebrew word "Ruach" — came on a person and left.
B. Greek word "Pneuma" — came and stayed.
C. Promised to everyone baptized into Christ.
1. Acts 2:38-9 — Called "the indwelling of the Spirit."
2. Gives a seeker power, prepares for God's use.
3. Without it incomplete, insecure, frustrated.
D. Matthew 7:7-12; John 14:15-17 — Do we believe?
II. THE HOLY SPIRIT IN OUR PERSONAL LIVES
A. You can do more than imagined — Ephesians 3:16-20.
B. Helps in our prayer life — Romans 8:26-28.
C. Gives the power to be patient — Galatians 5:22-26.
D. Gives the power to give — 2 Corinthians 8:1-7 .
E. Involves working as a congregation — Acts 20:35.
F. Gives us the power to resist temptation — Galatians 5:16-26; Colossians 3:1-19; Romans 8:1-17; Romans 6.
G. Romans 8:16
1. Gives the power to bear witness
2. Gives peace, comfort, confidence.
H. Gives us the power to find and use our gifts. — 1 Corinthians 12:1-3.
III. WHAT THE SPIRIT WILL NOT DO.
A. Force you. Nudge — yes. Force — no.
B. Work the same in everyone.
C. Overwhelm you. Acts 26:28
1. What did Agrippa feel?
2. What do YOU feel?
3. Acts 26:29 — Paul's response.
THE BACK PAGE
GLYNN LANGSTON
Our speaker tonight at 6:00 A.M. is Glynn Langston (Ann, his wife, and Glynn are in the picture to the right). Let me tell you a little about this great Christian evangelist. Glynn has worked with our Does God Exist? ministry for over 40 years. He started by being our agent to distribute our 16 mm films of our lectures in Europe, and has distributed our materials on cassettes and CDs to the visually impaired all over the world for many years. More than that, Glynn can sing Cajun music with the best of them. Here is some more data on him.
Glynn Langston is a native of Houston, Texas. He is the son of Wallace and Betty Langston. Because of treatment he received as a 2 pound premature baby, Glynn has been blind since birth, the sole survivor of twins. But blindness has not kept him from a most dynamic and adventurous lifestyle; he has been a public speaker and a teacher for most of his life. Glynn has lived without the vision most people take for granted.
After spending several years at the Texas State School for the Blind in Austin, Texas, Glynn became a pioneer as the first blind student to attend sighted classes in the Houston Public Schools. He graduated magna cum laude in 1967. Glynn made the Dean's List at Southwestern University (Georgetown, Texas), was named to Who's Who in American Colleges & Universities, and graduated cum laude in 1971 with a degree in European History and Public Speaking. Glynn speaks fluent French, is conversational in Russian, German, and Spanish, and reads and writes in Braille. He is an avid ham radio operator and has been involved in several life-saving calls. He has had audiences with kings (such as King Faisal of Saudi Arabia) and presidents (such as President de Valera of the Republic of Ireland). For a period of time he was a radio and television spokesman for the Irish National Council for the Blind. He served as a missionary for over 22 years on behalf of Churches of Christ in European settings, reaching thousands of people, some visually impaired, with the Gospel message.
Glynn and his family have committed themselves to the development of Insight International, a Braille Outreach Worldwide Ministry. It is Glynn's dream that free biblical literature and audio recordings for the visually impaired be available so that more souls can know and respond to the Lord. The need for this material is greater than any of us could possibly imagine. Glynn is truly a remarkable person, one worthy of your prayerful support. Be here tonight.
— John Clayton
Our sign by the street!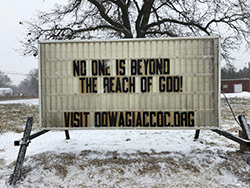 Sign saying from www.sayingsforchurchsigns.com, slightly modified.
Scripture links/references are from BibleGateway.com. Unhighlighted scriptures can be looked up at their website.
www.dowagiaccoc.org
02/15/2020