April 21, 2020
CORONA VIRUS ISSUE 2

WELCOME!
WE'RE GLAD YOU'RE HERE

We are a group of believers who simply try to follow the Bible as a guide for all we do. Everything done in our worship service is something for which we have a Bible basis. You are welcome to participate as much or as little as you wish. We will sing hymns together and we will observe the Lord's Supper or Communion together. We will also have an opportunity to give to the work of God in this area. This collection is for the members here, and if you are visiting you should not feel any pressure to give. Our lesson time will be divided into two groups. The young children can go to our classroom area in the basement where they will be taught the Bible at a level they can understand, while the adults stay in the auditorium for a lesson at their level. We do try to serve the community, and if you have some needs that we can provide, mention it to one of the members. Thank you for worshipping with us.
DUE to the COVID-19 pandemic
and government mandates we
will not have worship services or
Bible classes until further notice.
There will be no recordings or Sunday bulletins during that time.
FAMILY NEWS
SPECIAL DAY on MAY 26: Our food bank continues to operate, and we expect the demand to increase as this quarantine drags on and on. We have a team of workers headed up by Richard and Tina Hoyt, and involving Tracey Brewer, the Bundles, Rose Marlin, and the Gibsons. If you know someone who does not have food, contact one of them. The first Monday in May is our regular time, but food is available anytime. We need 20 workers to be here on the May 26 for a community food give away. Everyone can help with this! We need the workers to greet and hand out the food. Save the date. We need you!
HIGHWAY CLEAN UP: The state has canceled the highway clean up for this month.
SERMONS, ETC.: This is not a time to be without spiritual feeding and worship. TODAY'S LESSON below has a lesson outline that I hope is relevant. Spend some time with it and read THE BACK PAGE below. On Sunday morning at 11:00 we have a modified worship service on "Zoom." This is a time when all of us can see each other and talk to each other. We have some prayers and a short devotional sermon. If you have a cell-phone or computer with a camera and if you can get online contact Karl Marcussen (574-514-1400). If you do not have Internet/WiFi access, you can attend by using a phone number, call Karl.
Let me also suggest that you have a worship service at home on Sunday with everyone in your house. If you do not have songbooks, go to Youtube or a religious channel and sing with whatever is on. You can also just sing the first lines of hymns you are familiar with. Have a Communion service. You say, "I don't have grape juice or communion bread in the house." I do not have either one , so I grind up some grapes and strain the juice. Triscuit (unflavored), Carr's Table Water Original (unflavored) crackers, or taco or burrito shells are unleavened. Do not let 1 Corinthians 11:23-30 be fulfilled in you (see verse 30). Keep active and growing. You say, "I miss church." Do not! Keep reading the Word, praying, and watching online services (Bible classes and worship services from the Church of Christ in Eustis, Florida at https://www.orangeavenue.org/digital-services.)
TODAY'S LESSON
I MISS CHURCH!
John Clayton
INTRODUCTION — GOOD!
A. A recent Barna study shows that only 25% of the American population are "Practicing Christians."
B. Definition: "Practicing Christians are self-identified Christians who say their faith is very important in their lives and have attended a worship service within the past month." (https://www.barna.com/research/discrimination/Barna)
I. THE CHURCH IS NOT BRICK AND MORTAR.
A. Acts 17:24-25 — What does Paul say about God?
B. To the Jews the temple was where God dwelt.
What does that lead to? How did this concept mess up David and Bathsheba?
(see 2 Samuel 11:1-5).
C. Do we leave our morals at the church building?
II. IN THE NEW TESTAMENT, WHAT IS THE TEMPLE?
A. See 1 Corinthians 3:16; 6:15-20.
B. What contaminates the temple? (See 1 Corinthians 15:33)
III. THE CHURCH NEEDS LIGHT AND TO BE VISIBLE.
A. Matthew 5:14-16 — What does Jesus say is "the light?"
B. How is our stand for what is right the light?
Galatians 5:22-26
IV. THE TEMPLE INVOLVES SACRIFICE — GIVING THE BEST.
A. Mark 12:42 — What is the lesson for us?
B. Luke 18:18-27 — Not about money. What is it about?
V. THE TEMPLE WAS THE CENTER OF JEWISH LIFE.
A. How is our temple the center of our life?
B. James 4:13-17 — What is the message?
VI. THE TEMPLE — A PLACE OF LEARNING AND GROWTH.
A. Mark 14:49; Luke 20:1 — What did Jesus do?
B. Romans 8:16 — The Spirit teaches us every day. How?
C. Luke 10:20-21 — We can all learn.
VII. YOU HAVE A PROMISE FROM GOD.
A. Acts 2:38 — What is the promise?
B. 1 Thessalonians 5:19 — What can you do to the Spirit?
How do you do that?
C. How should all of this be important at this time?
THE BACK PAGE
WHAT CAN I DO WITH SOCIAL DISTANCING?
I hope that you are not finding the quarantine to be a negative experience. I am not talking about the fact that some of us are out of work, or that we are isolated from people we know and care about. I am talking about what our lesson from this bulletin is about. This is a time to do some work on our temple. Once again, I am not talking about the building on M51. Bill and Patty have been working hard on that building. They have been installing sheet rock, painting, and making repairs on the physical structure where we meet. Some of our toilets have broken and need repair, and there are a variety of other things being addressed, but that is not the temple I am talking about.
In John 2:14-16 we find Jesus overturning the money changers. Why did he do that? The people he ran out of the temple were supposed to be in the stockyards selecting sacrifices to be used in the passover. Instead they were in the temple selling and engaging in market practices that brought them personal income. Scholars say that was a $300,000 business and was supposed to be a market commodity. Jesus said, "Take these things elsewhere and do not make my Father's house a house of merchandise."
This is a great time to "throw out the money changers" in your temple. Look up the scriptures in TODAY'S LESSON above and pray about your own temple. Think about what you can do to take better care of your temple. What diet changes do you need to make? What projects need to be done. I have been going through boxes of pictures and organizing, labeling, and sorting them. It has been a great experience bringing back memories and even generating a few tears. My kids are interested in what I am finding and are thankful it will not land on them when I depart this world.
The weather is getting nice. Have you been outside? Do you have plans for a garden? I have a gift for you to that end. Inside this bulletin there is a plastic bag of seeds. These are marigold seeds. Every year I plant them and they grow like crazy. They make great flower box displays, border flowers, and edging plants. I like them because they are forgiving, tolerant, the deer and rabbits do not like them, and they remind me of Matthew 6:28. The marigold is a poor man's lily and Jesus says, "consider the lilies of the field, how they grow; they toil not, neither do they spin and yet I say to you that even Solomon in all his glory was not arrayed like one of these."
When you look in the sack you will see that there are little pods. Each of those little pods has an amazing number of seeds in them. You can open the pod and spread the seeds covering them with a light layer of dirt and a little water and stand back. Like God's blessings these ugly looking little bundles of brown will give wonderful flowers by the 4th of July, hundreds of them. Praise God for the little joys he gives us, even in a pandemic.
— John Clayton
— John Clayton
Our sign by the street!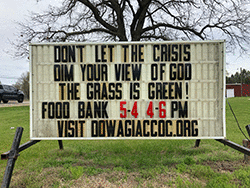 Scripture links/references are from BibleGateway.com. Unhighlighted scriptures can be looked up at their website.
www.dowagiaccoc.org
05/07/2020