Home
Worship Services
Sermons and Classes
Location
Contacts
Bulletins
Links
AUGUST 9, 2020

FAMILY NEWS OF
THE M-51 CHURCH OF CHRIST

We are a group of believers who simply try to follow the Bible as a guide for all we do. Everything done in our worship service is something for which we have a Bible basis.

Ordinarily we meet on Sunday morning for Bible study and worship and also on Sunday evening and Wednesday night for a Bible study. Since the pandemic forced us into not having meetings at our building we have been meeting via Zoom on our smartphones, tablets, and computers. When weather permits we are also meeting under some trees behind our building. If we meet under the trees we still have our Zoom meetings, and the plan is that once we are allowed back in our building we will have our Zoom meetings, for those who are not able to meet in person. Everyone is welcome to participate in this worship service at 11:00 on Sunday morning. If you want to participate with Zoom, contact Karl Marcussen at 574-514-1400 to get the information to join us.
DUE to the COVID-19 pandemic
and government mandates we
will not have worship services or
Bible classes until further notice.
TODAY'S LESSON
Since we have been under a shelter-in-place order, we have Zoom meetings online. Since mid-March we have had various speakers and for the last several weeks we have recorded their lessons, and so they are online for our visitors to enjoy.
Jim Harasewicz
Our sign by the street!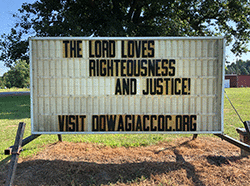 www.dowagiaccoc.org
08/13/2020