Home
Worship Services
Sermons and Classes
Location
Contacts
Bulletins
Links
October 4, 2020

FAMILY NEWS OF
THE M-51 CHURCH OF CHRIST

We are a group of believers who simply try to follow the Bible as a guide for all we do. Everything done in our worship service is something for which we have a Bible basis.

Ordinarily we meet on Sunday morning for Bible study and worship and also on Sunday evening and Wednesday night for a Bible study. Since the pandemic forced us into not having meetings at our building we have been meeting via Zoom on our smartphones, tablets, and computers. When weather permited we had meetings under some trees behind our building. As of mid-September we are going to meet in the building, and continue to have our Zoom meetings, for those who are not able to meet in person. Everyone is welcome to participate in this worship service at 11:00 on Sunday morning. If you want to participate with Zoom, contact Karl Marcussen at 574-514-1400 to get the information to join us.
TODAY'S LESSON
This Sunday we had to meet in our church building instead of under the trees due to the possibility of rain. We had been meeting outside. Starting this coming Sunday (September 13) we will be meeting in the building. We will practice social distancing and request that everyone who is able wear a mask out of concern for our church family. Even though we are meeting in the building we are continuing to have our worship services broadcast via Zoom for those not able or not feeling comfortable being in the building.
Jim Harasewicz
Our sign by the street!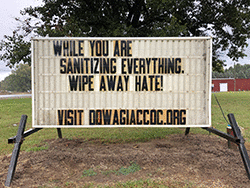 Sign quote from a similar street sign in front of a store in LaGrange, Indiana.
www.dowagiaccoc.org
10/8/2020