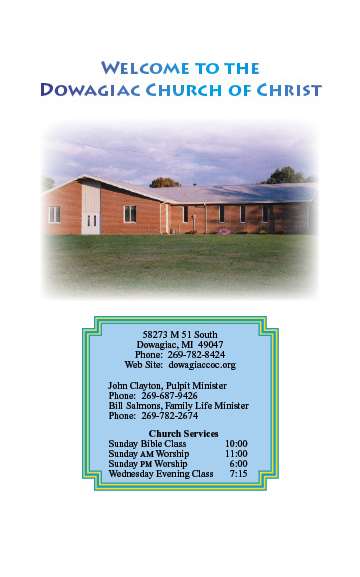 September 5, 2010
SHULTS-LEWIS OPEN HOUSE
For many years Shults-Lewis Child and Family Services in Valparaiso, Indiana, has functioned to serve children in the Michiana area. This facility is supported by congregations of the Church of Christ, and this congregation sends regular support to the home. Children who have been abused, are the victims of family member death, or who have emotional or psychological problems are cared for in a living, Christian, caring way. This home has functioned for a very long time and has done some wonderful work.
On September 18 there will be a open house, which has been a tradition at the home for many years. It has always been a great family day with food, fellowship, singing, a garage sale, auction, and a chance to tour the facility and see what is being done with the resources sent to the facility. There is also a golf tournament on the 17th if you are a golfer and want to participate. If you need more information, see John Clayton
POTLUCK
Today is the first Sunday of the month, and we have a fun tradition of having a potluck together each first Sunday of the month. PLEASE plan to stay and enjoy a wonderful meal and visit and share with your church family.
CLASSES
We have some unusual and wonderful classes going on right now, and we urge everyone to come and grow and learn. Jim Harasewicz is providing some important material on dealing with emotional pain. Whether you feel that kind of stress and pain or not, this is a subject that our friends and neighbors struggle with and need to hear. The author of this material is Wayne Leeper, and with the growth of interest we have had, we may want to have him here for a community seminar sometime in the future. Come and see what this is all about--10:00 every Sunday morning.
Our Sunday and Wednesday night class is a study of the book of Ephesians. When John is out of town Bill Gibson on Wednesday evening has a class following some questions on "Be Faithful Until Death."
TODAY'S LESSON

BUILDING RELATIONSHIPS
Malachi 2
Our world has a problem with relationships--
| | |
| --- | --- |
| At work | In government |
| With neighbors | In families |
| In Church | |
The Bible has a lot to say about relationships.
In Malachi God talks about what destroys them.
PARTIALITY--VERSES 7-9
Genesis 37:3-4
What caused the problems for Joseph?

Luke 11:43; 20:46; Matthew 21:12
What was important to these people?

1 Corinthians 11:20-21
What had happened to the Lord's Supper?

It is easy to love a clean, no problem person.
Jesus loved the unlovable. Why is it hard for a rich man to enter the Kingdom?
UNIVERSALISM--VERSES 10-12
We destroy distinctiveness when we fit the world's mold.
Everything about Christian relationships is unique.

Christian marriage is a sacred, wonderful, unique thing.
Sex is never what it could be if it is only physical.

1 Corinthians 7:9--God wants us to marry a Christian.
Why have we not preached this?

INFIDELITY--VERSES 13-16
God hates divorce (not the people involved)--WHY?
Infidelity involves breaking a contract.
The nation of Israel committed adultery--how?
Faithfulness is fundamental to relationships.

INJUSTICE--VERSE 17
God is a God of justice and fair play.
If you are not fair minded you cannot sustain a relationship.
Judgement scenes show explanations, fairness, justice.
We are not the judges of anyone--we do not know hearts.
James 4:17
HOW JUST WOULD IT BE--
For people who live selfishly to have the same reward?
For people who do not sacrifice to be rewarded?

DOING CHURCH

We had quite a few comments and phone calls about last Sunday's sermon on doing worship. I appreciate the fact that people are listening and thinking and wanting to act on what God says about what the Church should be. Our study of Galatians 6 fitted right in with what the lesson was about and what we as a congregation should be doing. "Be not deceived for God is not mocked: for whatsoever a man soweth, that shall he also reap. He that soweth to his flesh shall of the flesh reap corruption; but he that soweth to the Spirit shall of the Spirit reap life everlasting. And let us not be weary in well doing: for in due season we shall reap if we faint not. As we have therefore opportunity, let us do good unto all men, especially to them who are of the household of faith" (Galatians 6:7-10, KJV).

Our worship to God is a continuous activity, not just something we do for an hour on Sunday morning. Our food bank continues to grow as more and more people know about our service, and as the recession problems continue to afflict people in the Dowagiac area. We have several members who have hit hard times and have had serious medical problems, and we minister to them in a special way. This is worship, and this is what religion by God's definition is about. James says in James 1:27 that "pure religion and undefiled before God and the Father is this, To visit the fatherless and widows in their affliction, and to keep himself unspotted from the world."

A point that seems to have been especially of interest in last week's lesson was the statement that "If we can't give a biblical reason for what we do, we won't do it." The temptation for leaders in the Church is to think of ways to attract people to worship. Gimmick Christianity is a major business in our culture, and many denominations are very good at it. Our plea to people is to follow God's word. God's word is simple, plain, and involvement oriented. We will put up a question box for you to raise questions about biblical reasons for what we do. This is not a desire to deal with controversy or ask questions of a philosophical nature. It is also not a device to criticize what others do or justify what we do. It is a chance to learn and grow in our understanding of what God says about what we should do, not a debate about how we should do it. We will answer some of the questions in this column, and some in sermons given. Be a part of "doing Church." Be active, participate, think, learn, grow, and know why you believe what you believe.