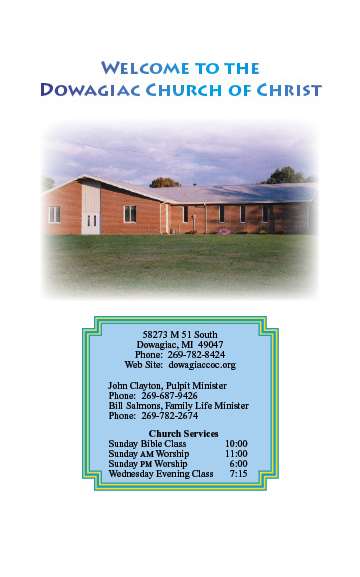 September 12, 2010
TO OUR VISITORS
The family of God here at Dowagiac Church of Christ wishes to extend to you a warm welcome. If you have questions about our worship services and why we do what we do, we will be glad to give you a biblical answer. The uniqueness of the Church of Christ is that we are trying to restore to the best of our ability those things that we see the first-century Church doing. We are also working hard at building the spirit, unity, and love that Jesus taught and prayed for. We have no clergy, but are working together as equal co-workers trying to serve one another and the area in which we live. Come study with us, grow with us, and serve with us as we strive to do God's will in all things.
SUGGESTION/QUESTION BOX.
In the front of the auditorium there is a box and some paper for you to use to help make sure our classes and worship deal with things you are concerned about. We do not want you to sign when you put questions in the box unless you want to. Our purpose in this is to have lessons and classes that deal with things the membership and visitors here are really concerned about. We urge you to ask questions that are Bible questions and content questions that have significance to the Church. We do not want questions that have to do with politics, athletic events, or personal issues of others in the Church. Help us by openly requesting things you want to study and understand better.
We have lots of people in need of lots of prayers. Spend some quiet time this week and remember the following concerns for members here:
LARRY FOX--
undergoing tests/treatment for sleep problems
PATTY GIBSON
--undergoing tests for back and side pain
BRAD MATHIS
--facing difficult choices in a blood disorder
BILL SALMONS
--back surgery
JANICE LOVE
--ongoing multiple medical problems
TERRY TURMAN
--continuing physical problems with back
There are many other friends and associates who are facing cancer, surgery, or personal struggles that we have not included. We try to keep the board on the wall up to date, so write down those listed and pray for them regularly.
TODAY'S LESSON

THE FIVE LANGUAGES OF LOVE
1 Corinthians 13:1-10, 13
INTRODUCTION
Humans express love in five ways.
Animals do some of these but not all of them.
God calls us to all 5--Jesus demonstrated them.
This is what sets us apart from animals.
This brings us the best in life.

Our phrases tell us we are not doing all we should.
Avoid the negatives - do the five.

LANGUAGE 1--WORD

John 1:1
1 John 4:8,16
John 3:16
John 13:34-35

LANGUAGE 2--GIFTS
Luke 21:1-4
"It is more blessed to give than to receive" (Acts 20:35).
John 3:16

LANGUAGE 3--ACTS OF SERVICE
Jesus washing the disciples feet--John 13:5 ff.
Dorcas--Acts 9: 3 6
Ephesians 5:28

LANGUAGE 4--TOUCH

Haptomai (Greek)--hold on, embrace
"He Touched Me"--Song

Mark 5:26-29; Luke 7:11-16; Matthew 8:3,15; 9:20,21,29; 14:36; 17:7; 20:34

Holy kiss--"Philema" (Greek) mark of friendship
Romans 16:16; 1 Corinthians 16:20; 2 Corinthians 13:12; 1 Thessalonians 5:26; 1 Peter 5:14

LANGUAGE 5--QUALITY OF TIME
Why do we have communion every week?
What is your family quality time?
Hebrews 10:24-25

WHAT LANGUAGE HAVE YOU USED TO GOD?
Look at each of the above. Which have you done?
1 John 2:15
1 John 3:11
1 John 4:16
The Christian system is about love--express & live love!


A CALM IN THE STORMS

"They mount up to the heaven, they go down again to the depths: their soul is melted because of trouble. They reel to and fro, and stagger like a drunken man, and are at their wit's end. Then they cry unto the Lord in their trouble, and he bringeth them out of their distresses. He maketh the storm a calm, so that the waves thereof are still. Then are they glad because they be quiet; so he bringeth them unto their desired haven" (Psalm 107:26-30).

In the past two weeks we have heard a number of stories of people and congregations in the area having severe troubles. In most cases it is easy to understand why these troubles have come about. Sin has frequently been involved, and a failure to follow God's word is nearly always involved. We have some sister congregations who are going through internal problems and are threatened with having to close their doors. I had a man call me who is preaching for one of these groups, and he asked me how the Dowagiac congregation is doing so well--"what is your secret," he asked.

What is interesting about this particular call is that it came from a man who has over the years been very legalistic in his thinking and teaching. He has been dogmatic and confrontational about how to handle marriage problems, divorce, bankruptcy, child raising, caring for orphans and widows, taking care of people with physical needs, and a number of other issues. As he has gotten older and these problems have touched him personally, he has become gentler and less arrogant about how to deal with the rough spots in life.

If our congregation is different, it is because we focus on the Bible and not traditional positions on issues. Our classes and our sermons are not and must not be on one person's understanding about how to deal with the many issues that friends, neighbors, and brethren bring to us. We are not judges and have no authority to pass sentence on anyone. We welcome anyone to our services, and will try to help anyone both physically and spiritually.

We welcome those who have been divorced, who have had a problem with alcohol, drugs, or abuse. If someone is hungry, we are prepared to feed them. If someone is cold we have clothes available to serve them. We want to be God's calm in the storms of life that surround us, and when we read Matthew 25:31-46 we see Jesus supporting us being that calm.